NIC ASIA's Video KYC (Know Your Customer) service allows customers to access banking services from any location worldwide, eliminating the need to visit a branch in person. The services offered through Video KYC include:
Account Opening: Customers can open bank accounts remotely through the Video KYC process, making it convenient and accessible.
KYC Update: Existing customers can update their KYC (Know Your Customer) information using the Video KYC service without the need for physical presence
at a branch.
Account Activation: Customers can activate their newly opened accounts remotely through the Video KYC process, enabling quick and hassle-free access to banking services.
Scheme Transfer: The Video KYC service enables customers to transfer their accounts between different schemes or products offered by NIC ASIA Bank.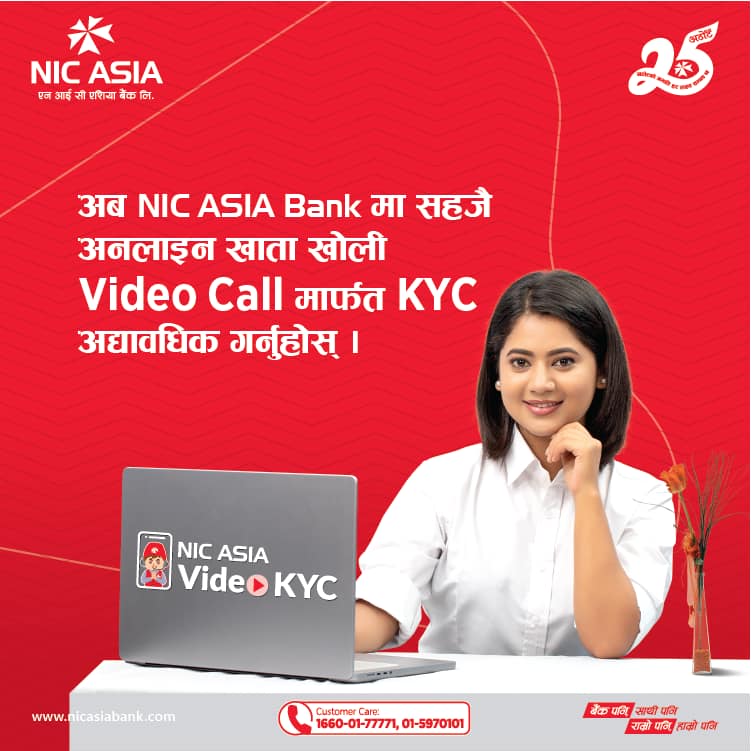 The Video KYC service is currently available for 16 hours a day, from 6AM to 10PM. This extended availability ensures that customers have a significant window of time to utilize the convenience of Video KYC for their banking needs, regardless of their location.
Please note that the availability hours mentioned are subject to change, and it is advisable to check with NIC ASIA Bank for the most up-to-date information regarding Video KYC service timings.
Complete you Video KYC in just few steps:
Step 1: Fill out the Online Account Opening Application Form.
Step 2: Open the link sent to your Email.
Step 3: Provide Access to the Camera, Microphone and location in the device
Step 4: Connect to Agent through the Link and Complete your VKYC
Requirements before Conducting VKYC
Identification documents (Original document added as primary while filling the Online Application Form like citizenship, Passport, and Driving license)
Blank Paper and Black Pen • Ample light and clear background
A clear view of your Face
Smart Phone or Laptop with camera and speaker in working condition
Uninterrupted Internet Connection
Click on Apply Now button to open your account through V-KYC now.